Findtime Smartwatch S68
Shipping & Delivery Time Details
We offer FREE shipping with NO minimum purchase amount.
Free Shipping Delivery Time:
United States: 6 - 15 working days
Canada : 6 - 15 working days
Australia: 6 - 15 working days
European countries: 8 - 19 working days
Express Shipping Delivery Time:
United States: 3-5 days( $25 extra)
The order processing time usually takes about
1-2 business days.
Since we are currently on holiday from September 28, 2023 to October 6, 2023, your order processing time will be delayed until one week before shipping. We apologize for the inconvenience caused to you.
More details refer to our
Shipping Policy
.
30-Day Money Back Guarantee
All items can be refunded within 30 days of receiving the order.
To be eligible for a refund, your item must be unused and in the same condition that you received it. Click the profile icon in the store's navigation, or go to the refund policy and click "Return Requests" and then request a return.
If you still have questions in return please send us an email directly to
service@findtimewatch.com
to notify us that you'd like a refund and then we will handle it within 2 working days.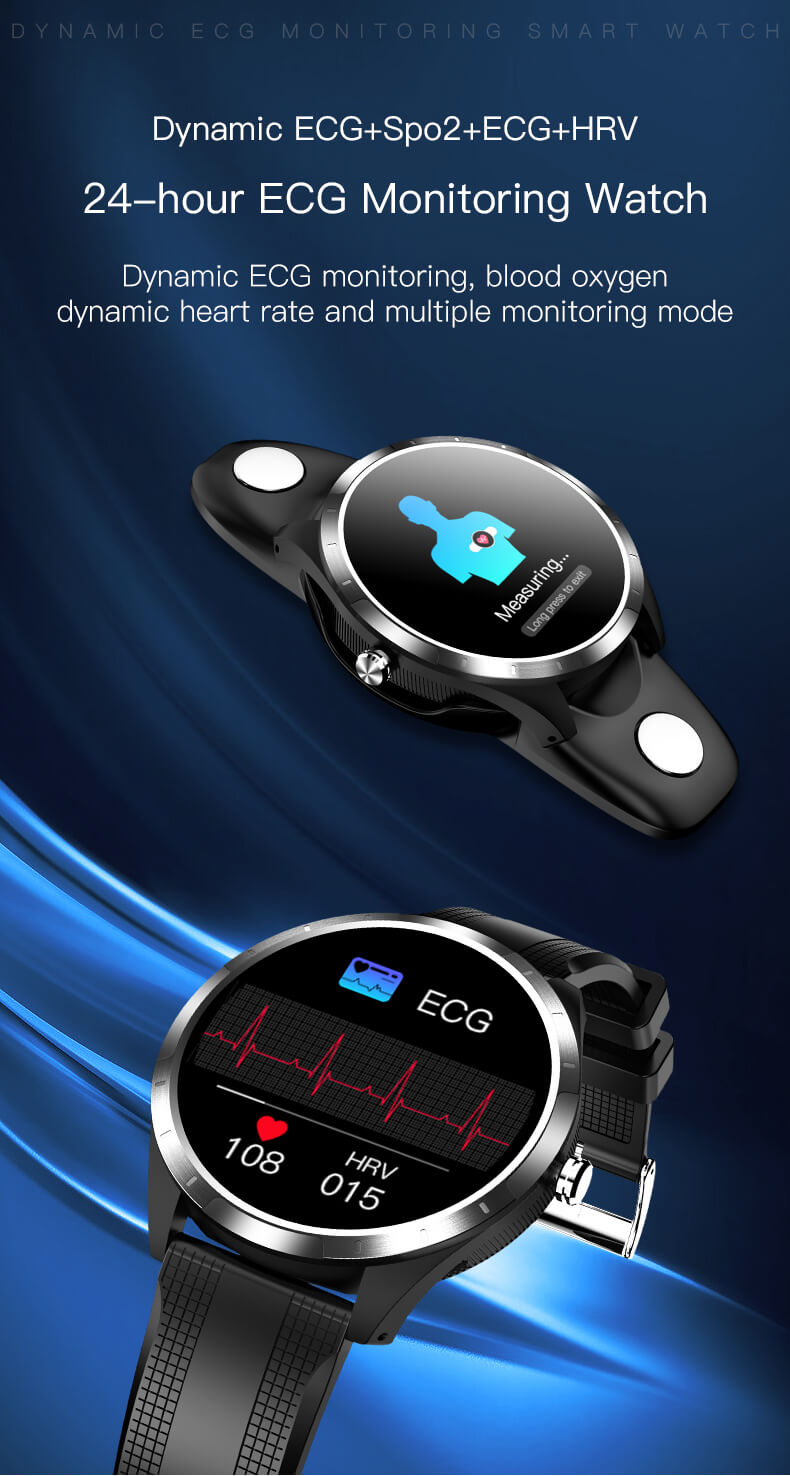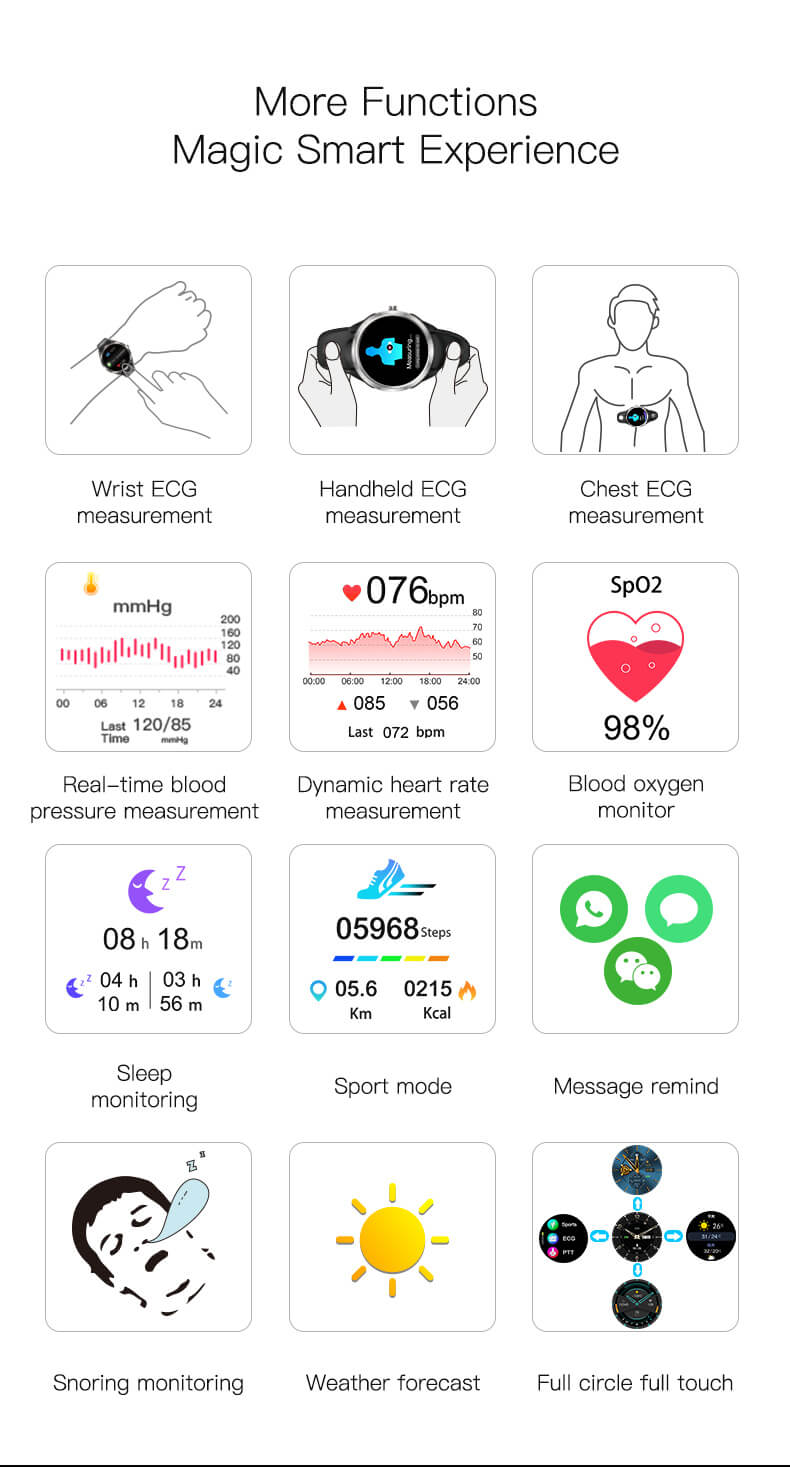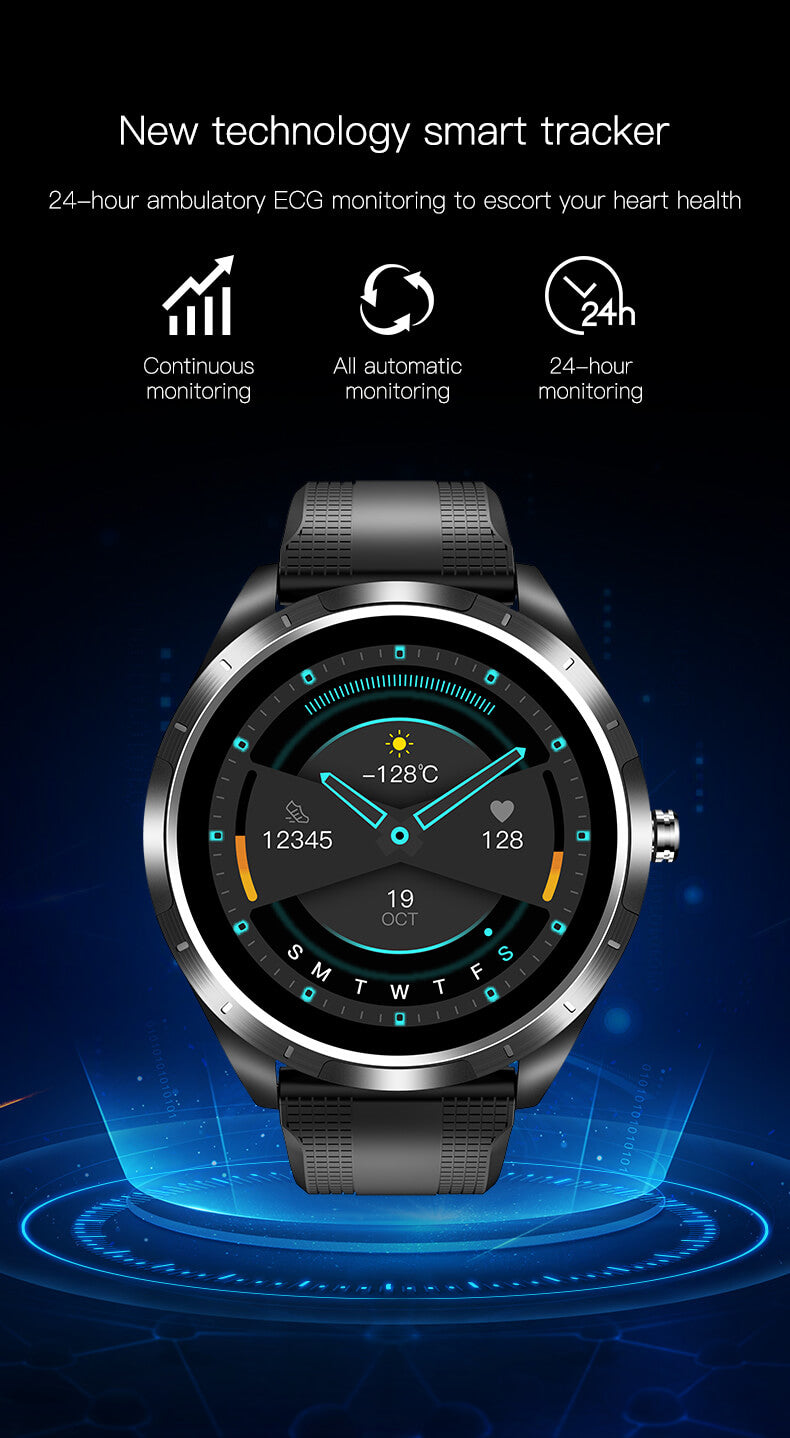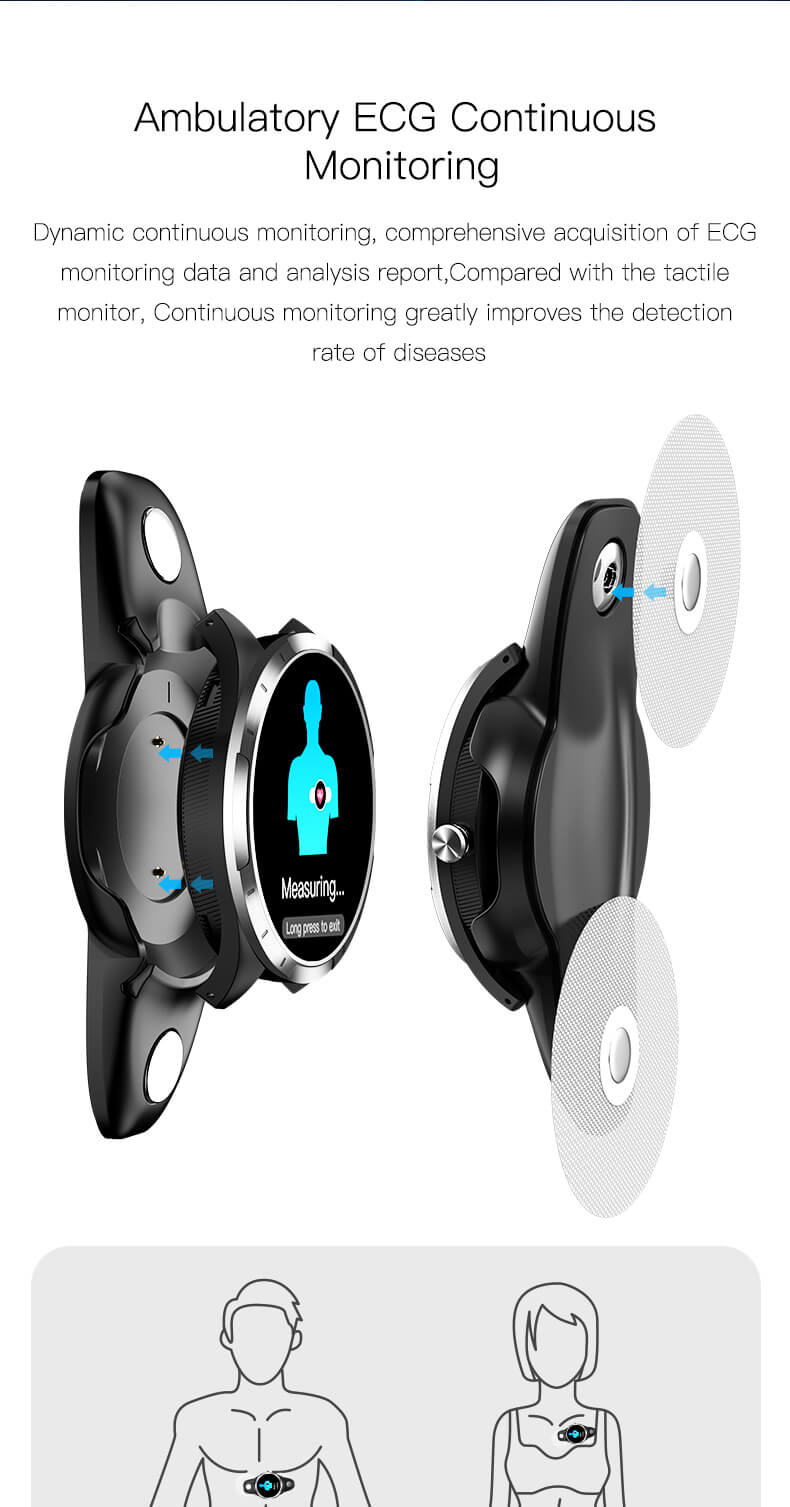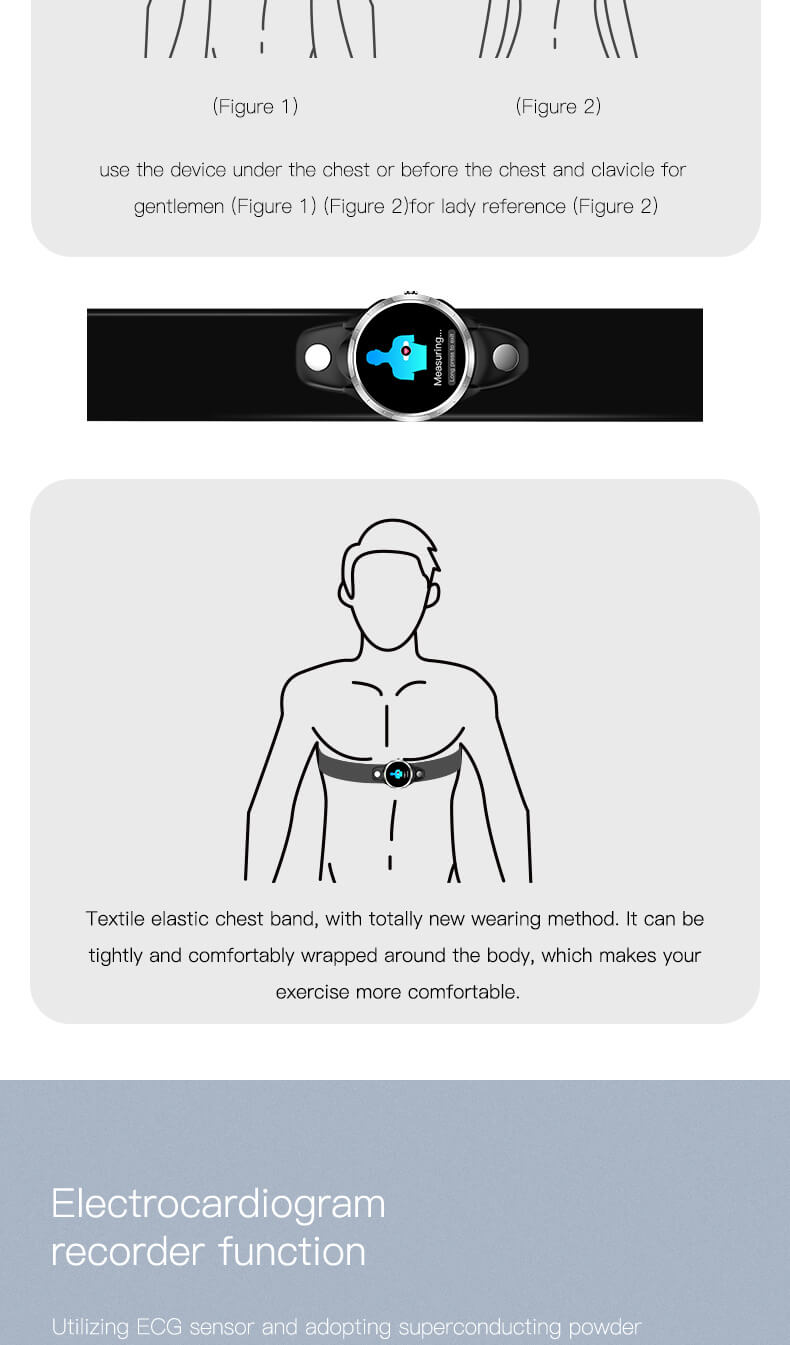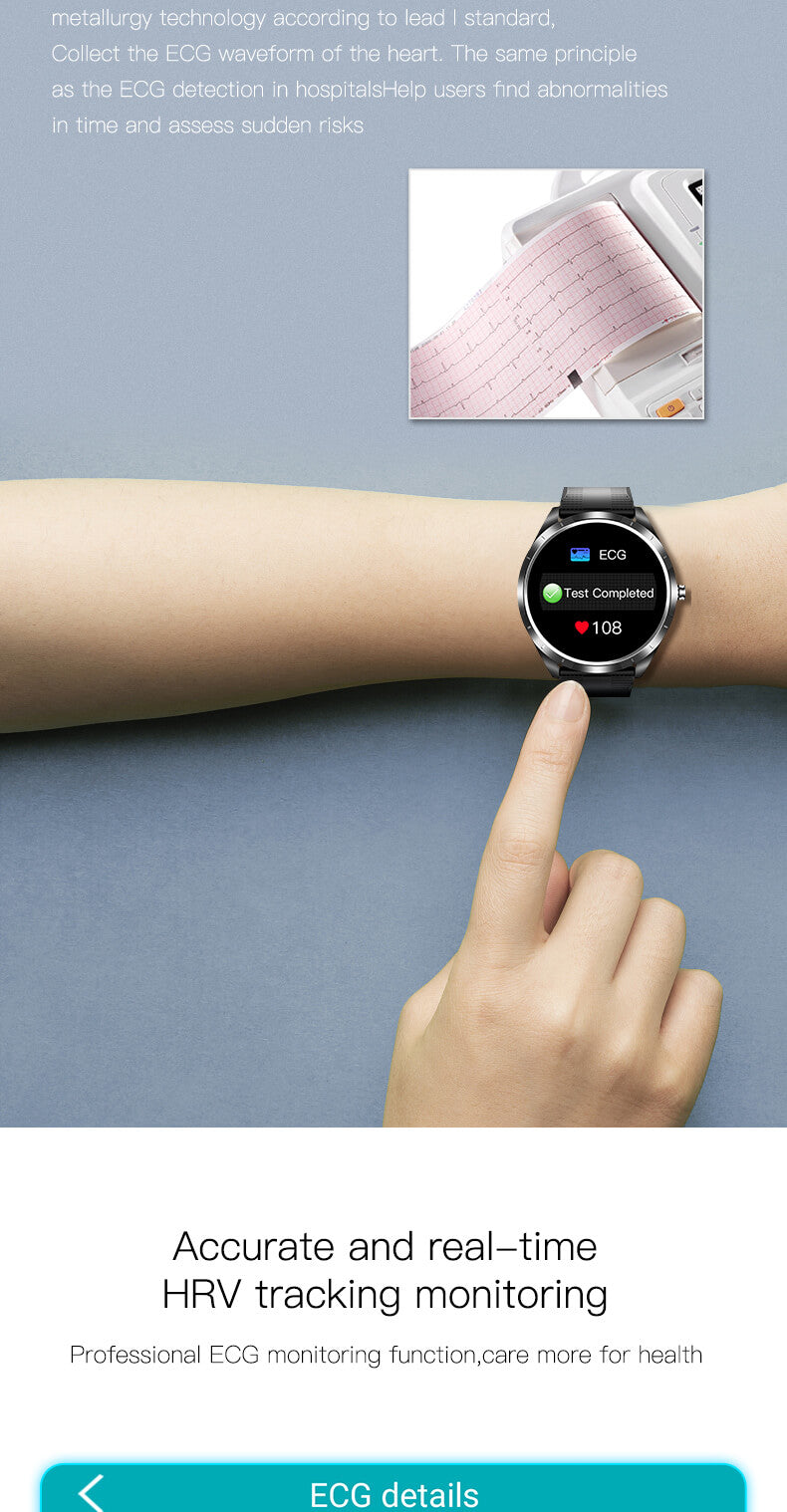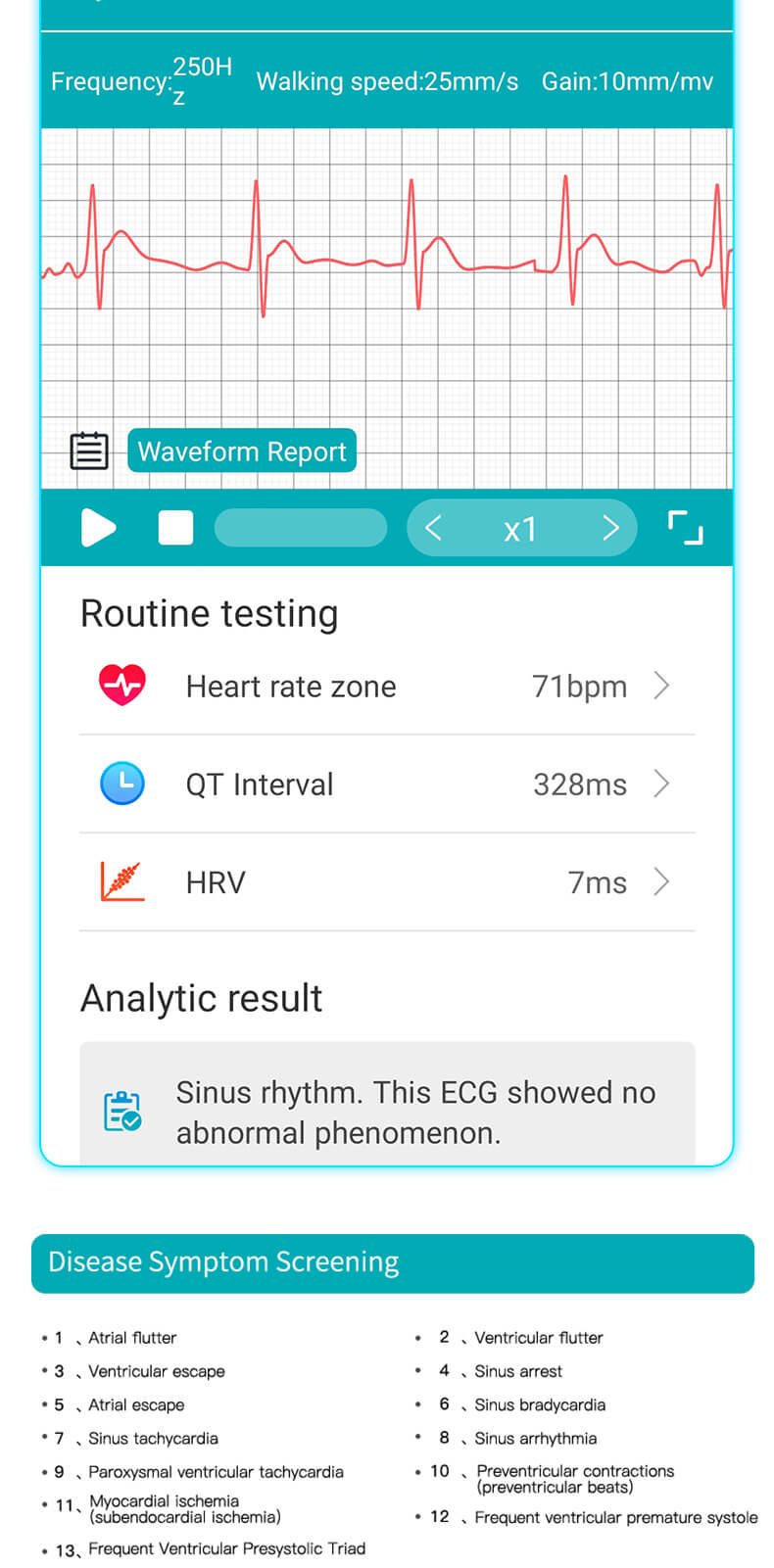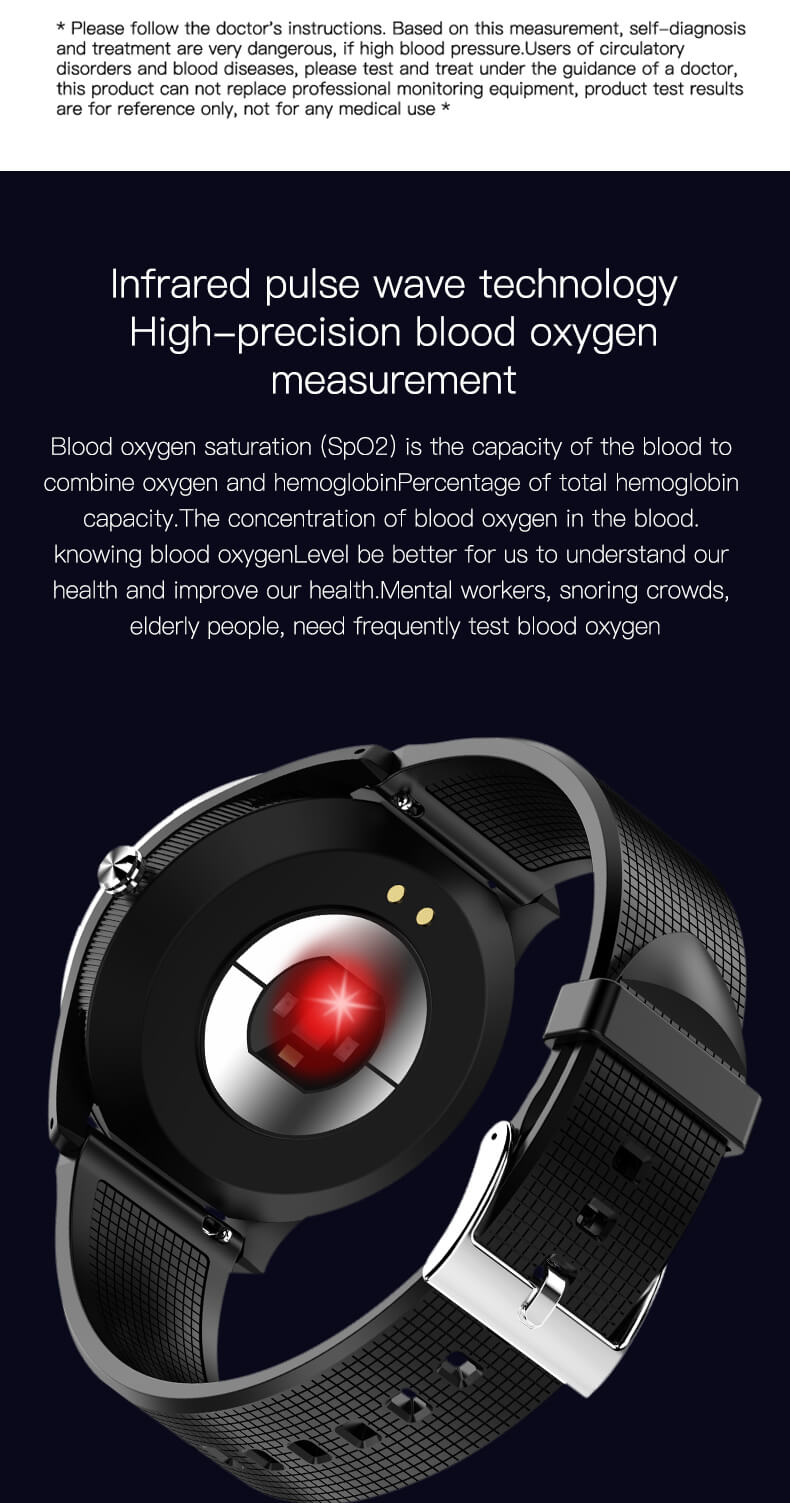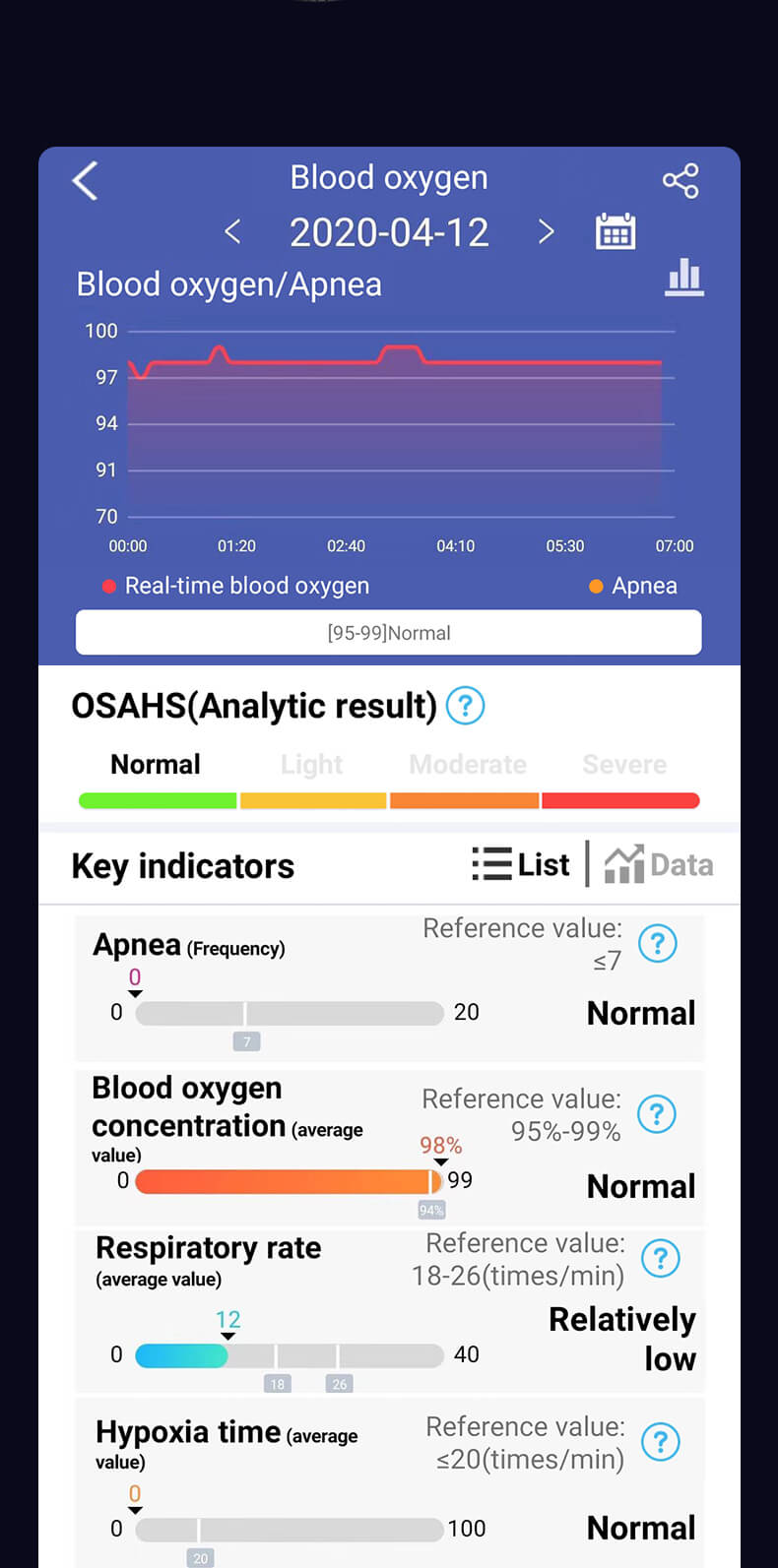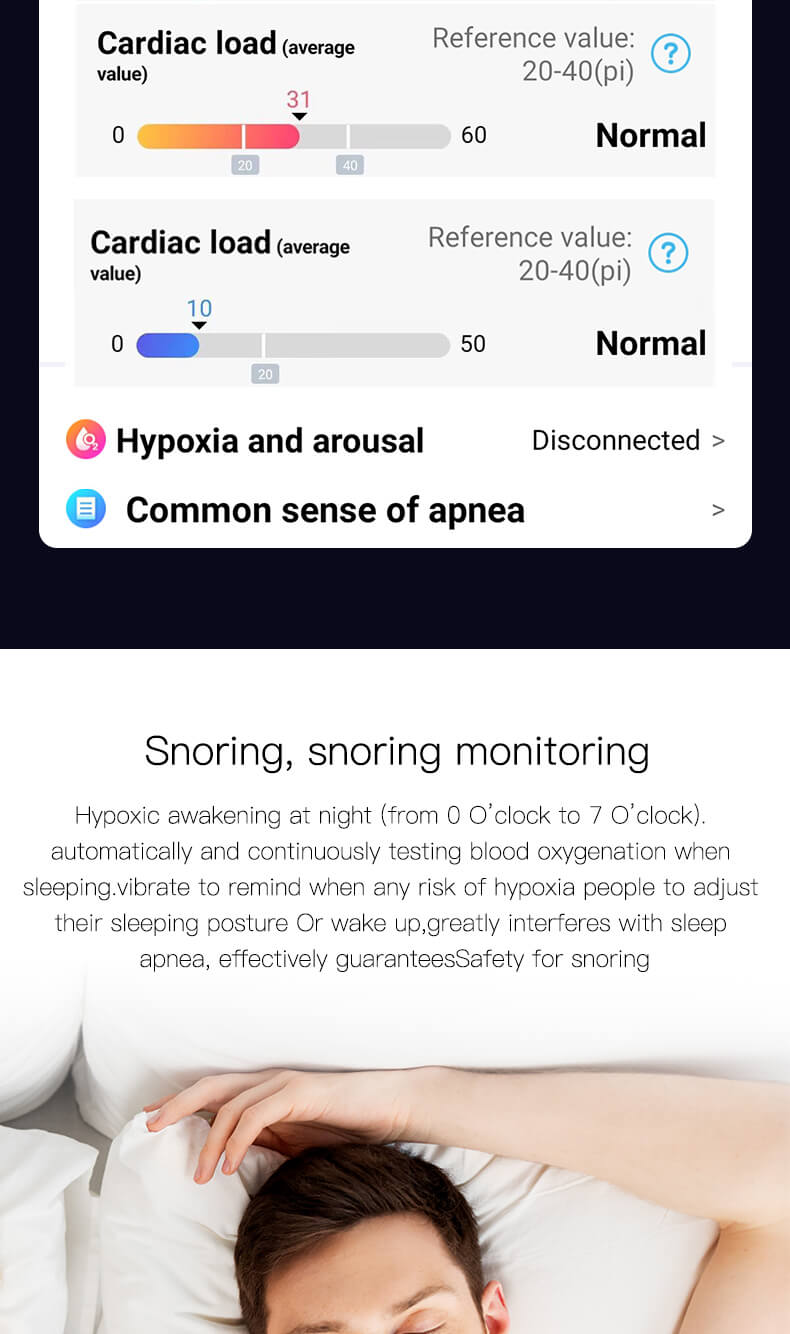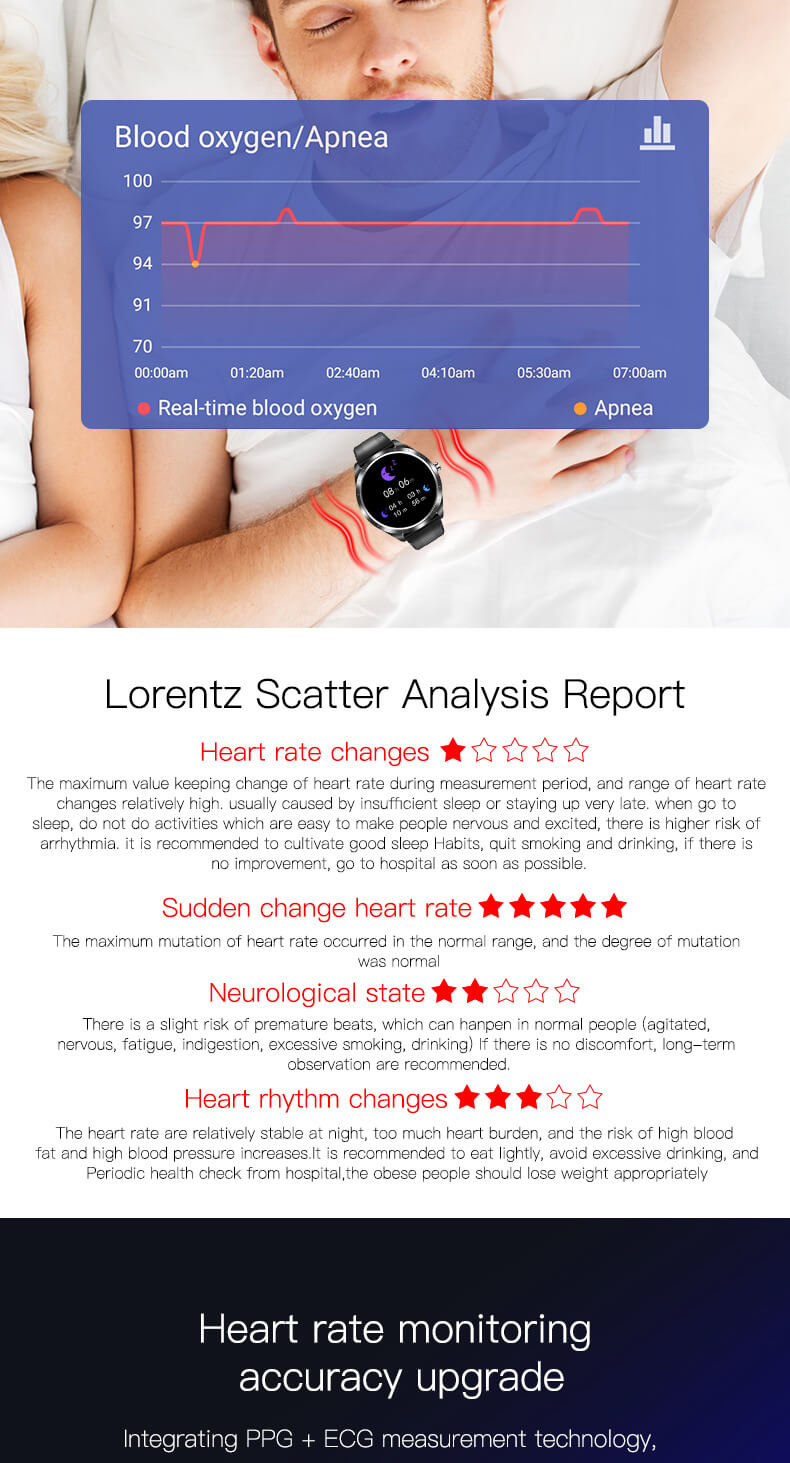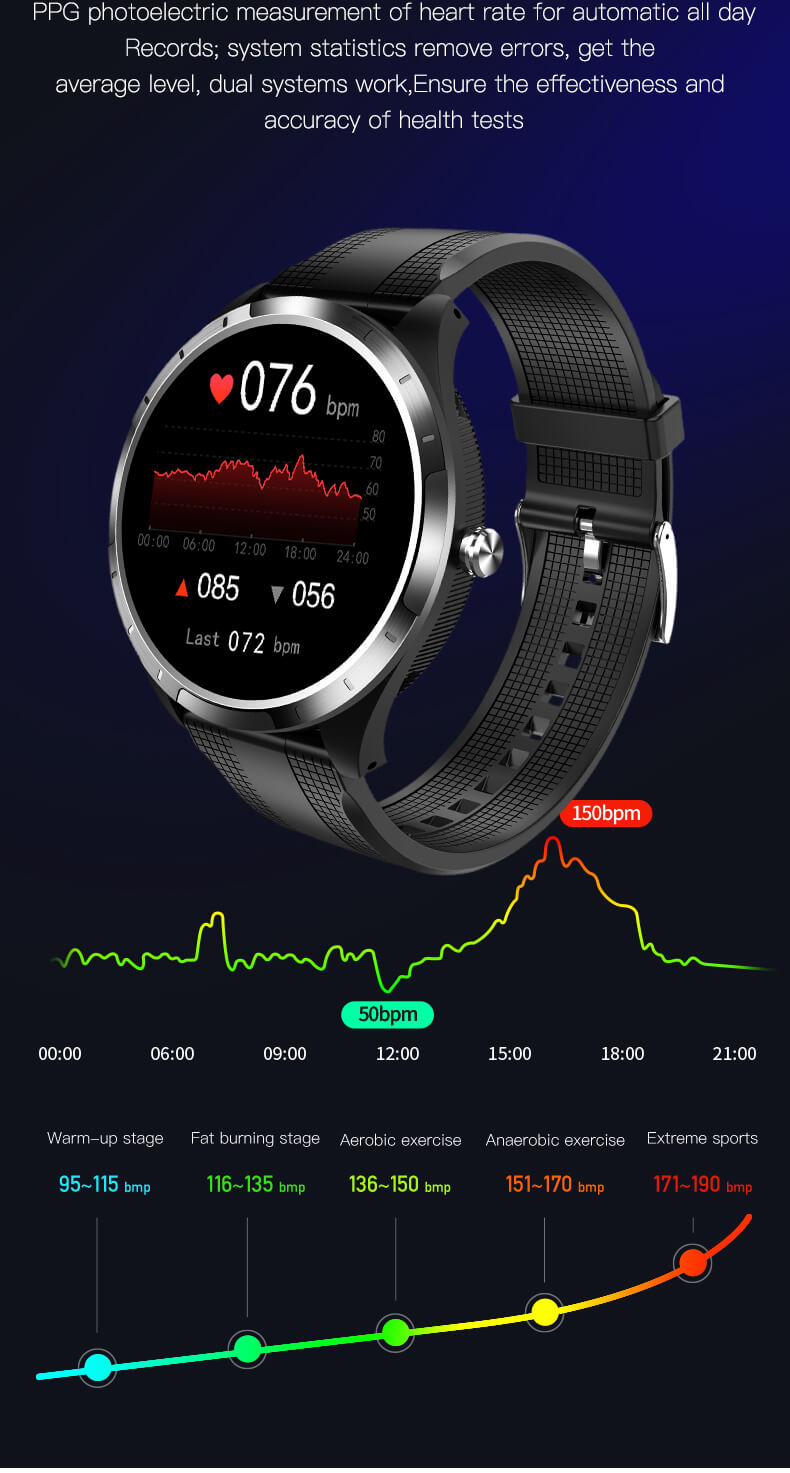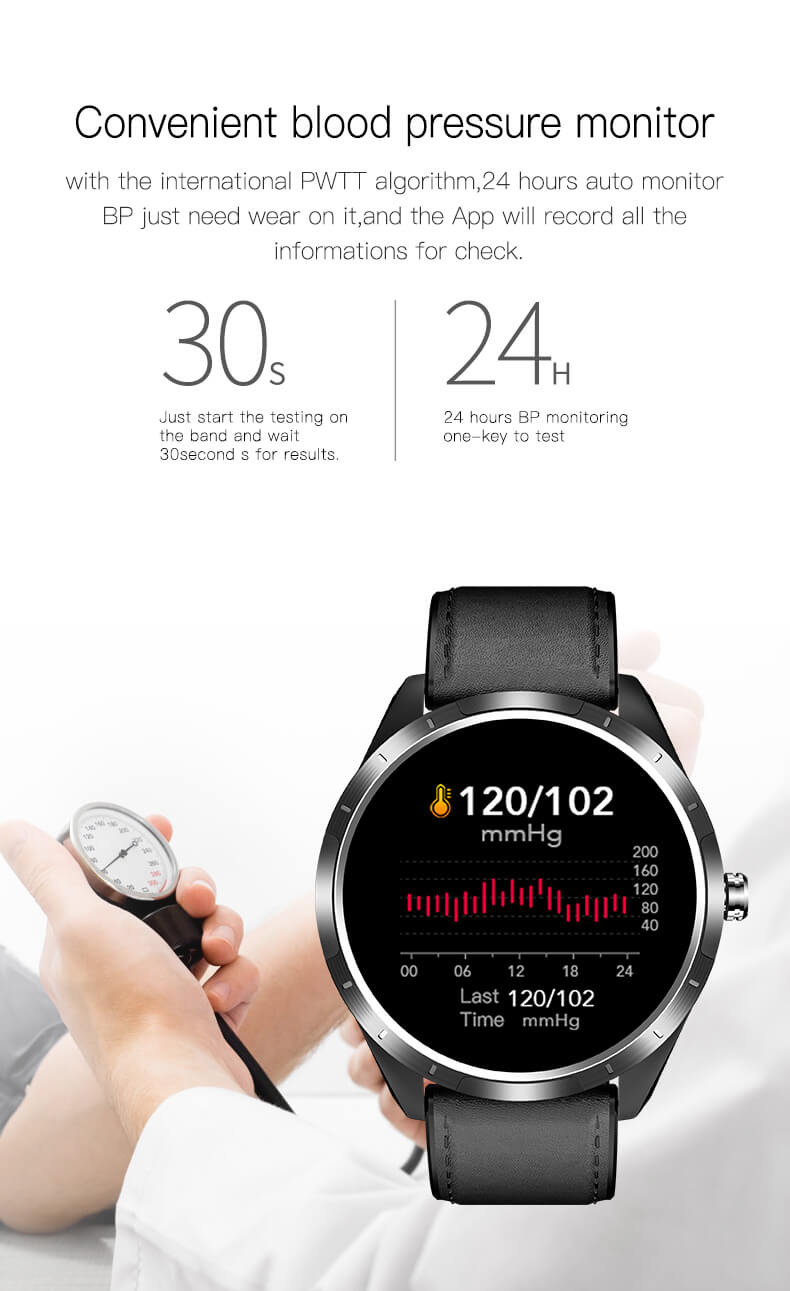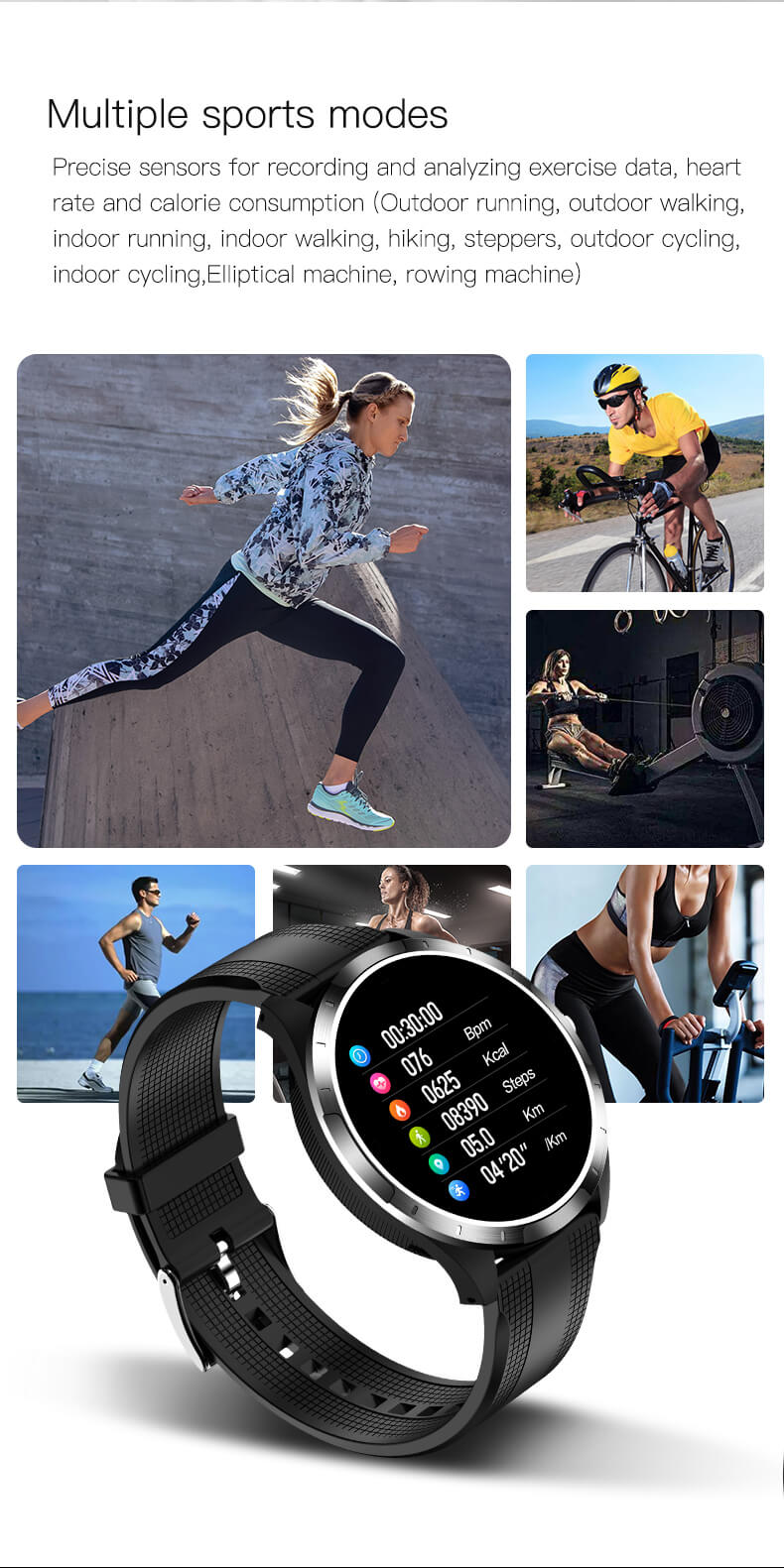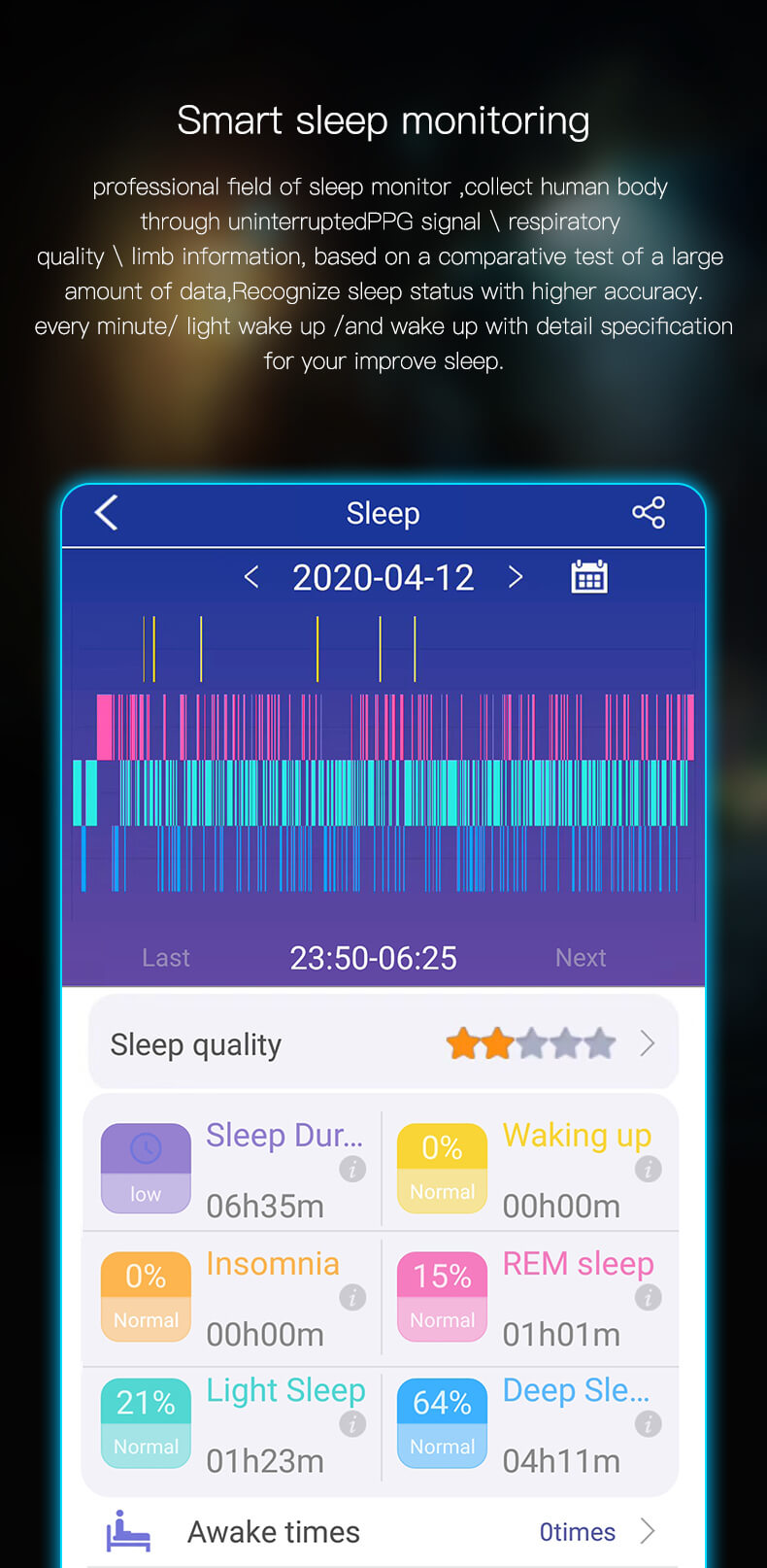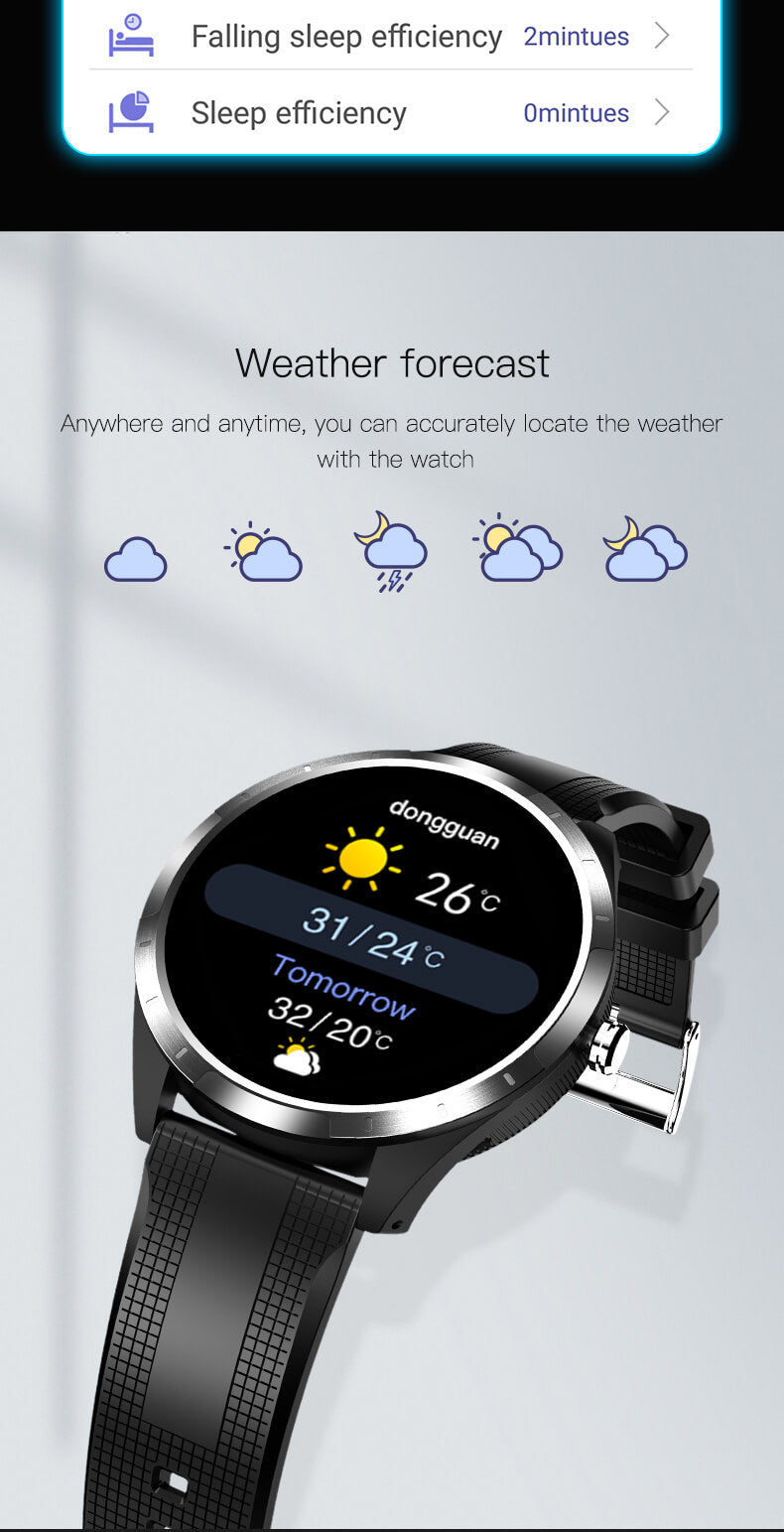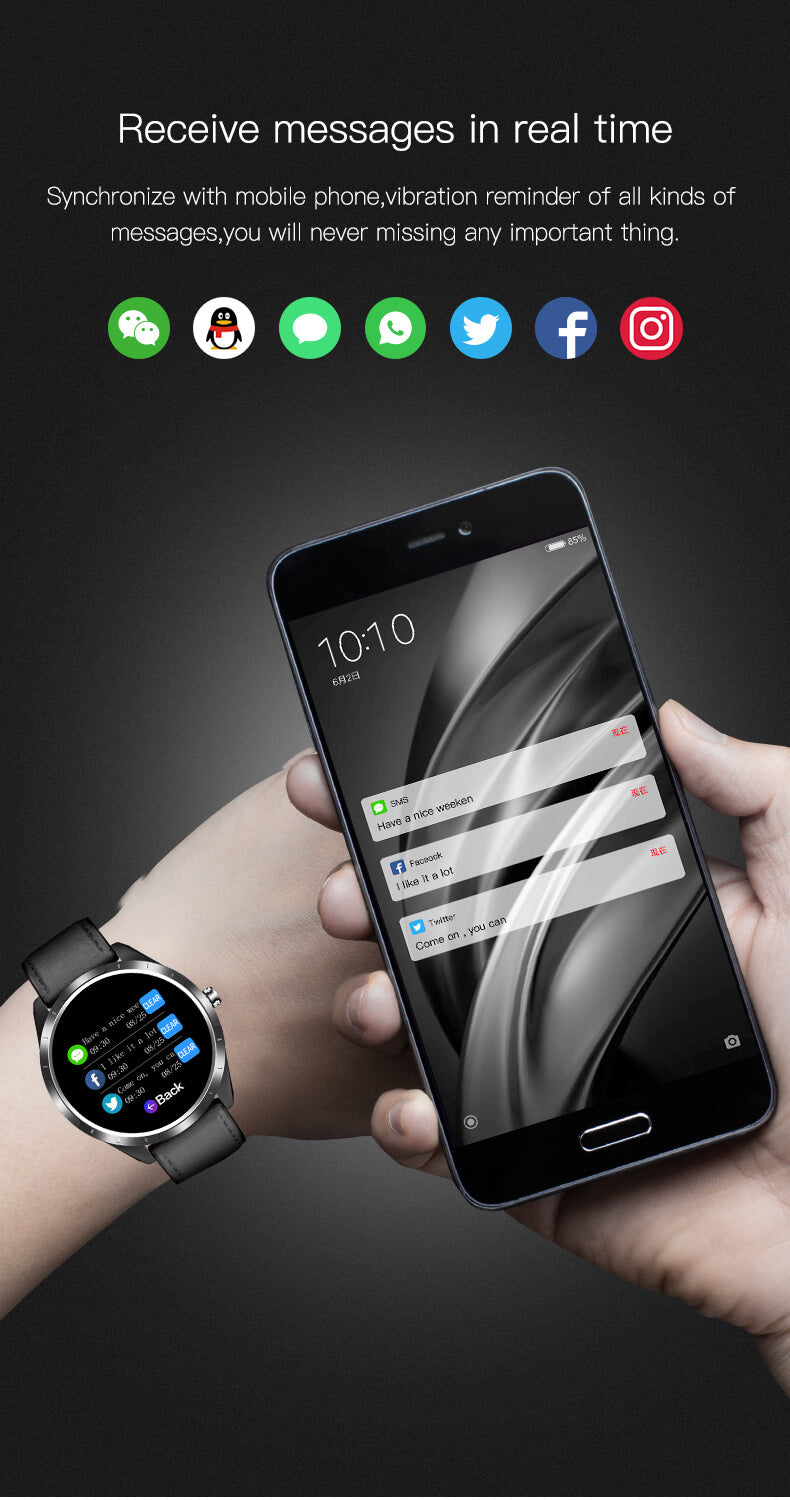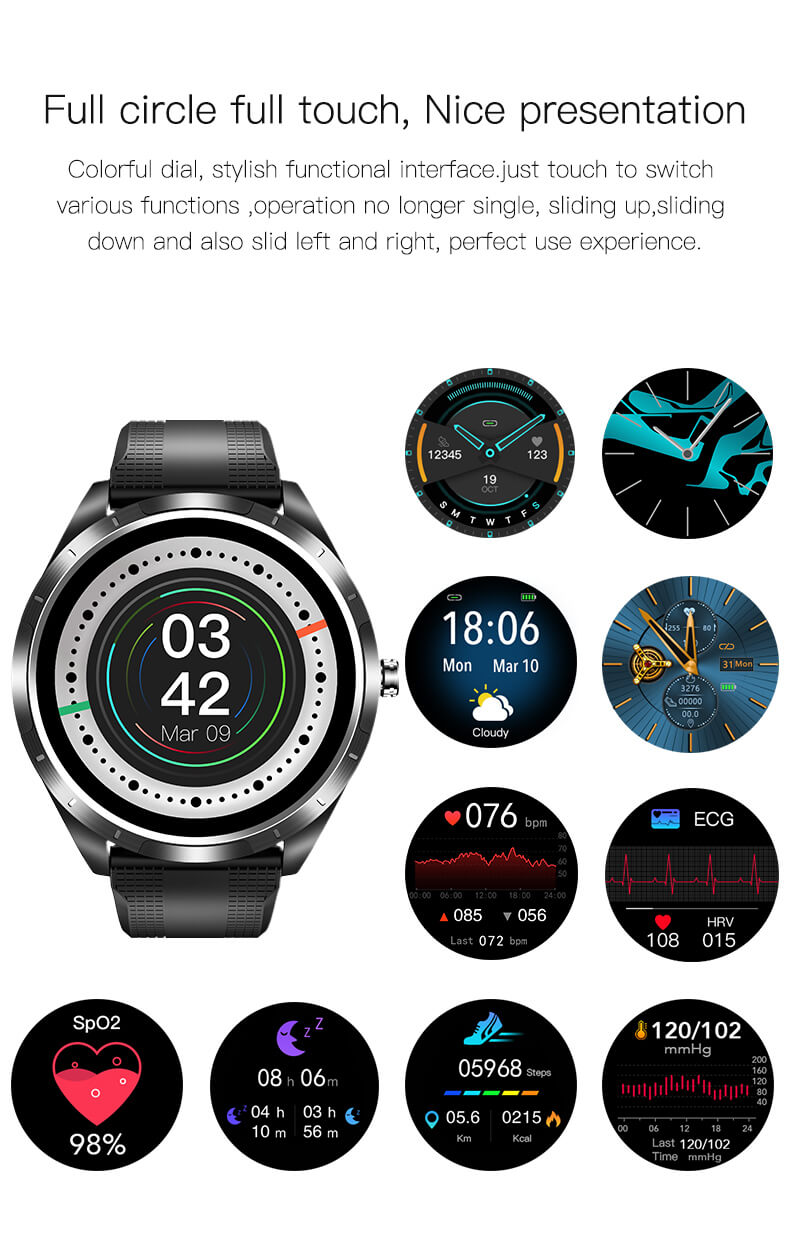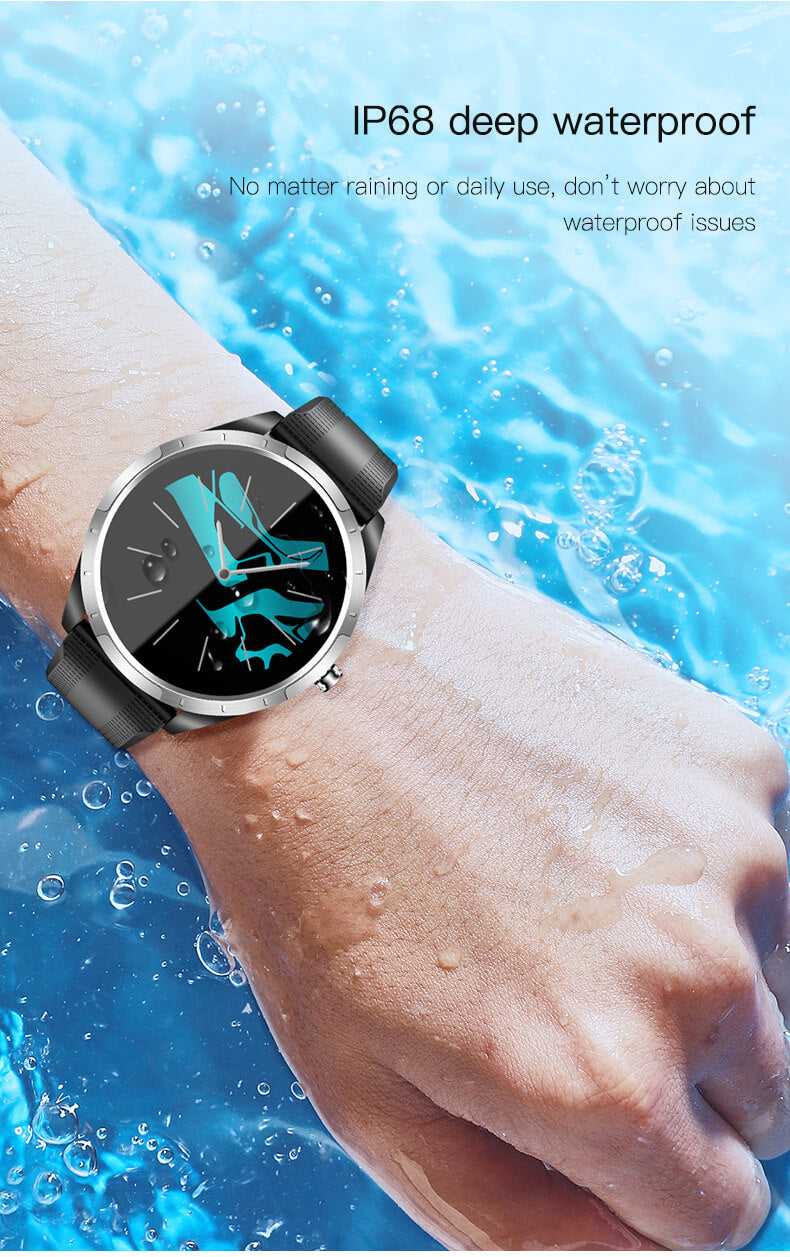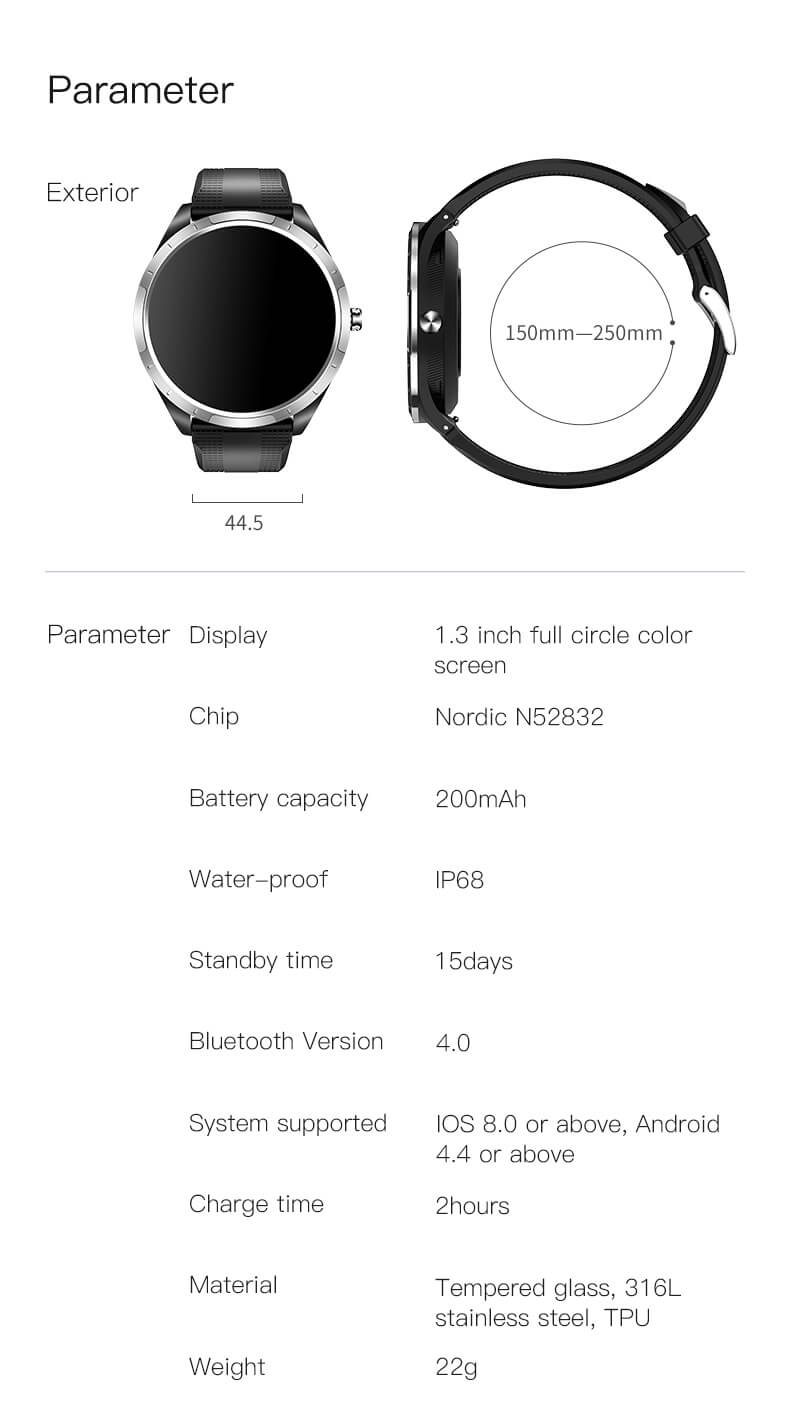 Product Features
Dynamic ECG Continuous Monitoring
Dynamic continuous monitoring, comprehensive acquisition of ECG monitoring data and comprehensive analysis reports, compared with ordinary ECG watches that can only be measured once, long-term monitoring greatly improves the detection rate of diseases.
ECG Recorder Function
Wrist-wearing ECG test function, intelligent and portable to measure at any time, using the ECG sensor chip, according to the I-lead standard, using superconducting powder metallurgy technology, to collect the heart's ECG waveform (ECG). It is the same as the detection principle of the electrocardiogram machine in the hospital, helping users to find abnormalities in time and evaluate sudden risks.
Infrared Pulse Wave Technology, High-precision Blood Oxygen Measurement
Oxygen saturation (SpO2) is the percentage of the combined capacity of oxygen and hemoglobin in the blood to the total hemoglobin capacity. That is, the concentration of blood oxygen in the blood. Understanding the blood oxygen level is of great significance for us to understand our own state and protect our own health. Mental workers, snoring people, the elderly, and plateau and high mountain hypoxic environments need to check blood oxygen saturation frequently.
Snoring Monitoring
Hypoxic wake-up automatically and continuously monitors the blood oxygen of the sleeper at night (0:00-7:00), and vibrates when there is a risk of hypoxia to remind the sleeper to adjust the sleeping position or wake up, greatly intervening in sleep apnea, effectively Guarantee the safety of snoring crowd.
Heart Rate Monitoring Accuracy Leaps
Integrating PPG+ECG measurement technology, PPG photoelectric measurement of heart rate is used for automatic recording throughout the day; system statistics eliminate errors to obtain the average level, and dual system work ensures the effectiveness and accuracy of health tests.
Blood Pressure Monitoring
Using the international common PWTT algorithm, it can monitor blood pressure 24 hours a day. You can check your blood pressure by wearing a watch, and you can also view more comprehensive data through the mobile APP.
Sleep Tracking
Following medical research in the field of sleep, it continuously collects human PPG signal breathing quality and limb information, and achieves high-precision identification of sleep status based on comparative testing of a large amount of data. Its accuracy can reach minute-level rapid eye movement period and waking up, etc., and provides detailed sleep data to help customers improve sleep.
Track Daily Activity & Sports Modes
Precise sensor for recording and analyzing exercise data, heart rate and calorie consumption (outdoor running, outdoor walking, indoor running, indoor walking, hiking, stepper, outdoor cycling, indoor cycling, elliptical machine, rowing machine)
Support IP68 Waterproof
Boasting a daily waterproof level standard, this watch can take on your active lifestyle and protect you against sweat and rain. Whether it is sweating or splashing with small raindrops, it can handle it with ease.
Magnetic Charging & Long Battery Life
Stay powered up and ready to go with Findtime's Smartwatch. Enjoy the convenience of a large battery (200mAH) and low-power AI algorithm, giving you up to 5-7 days of battery life and 15 days of standby time. Plus, the easy-to-carry magnetic charging is safe and stable, so you never have to worry about battery anxiety again.
Smartwatch for Android and iOS Phones
Whether you are using an iOS device or an Android phone, you can work with it and enjoy the wisdom and technology on your wrist. This Findtime watch is compatible with smart phones that use Android 4.4 & iOS 8.0 and above, not for PC or tablet, only for mobile phones with Bluetooth 5.1 and above.
APP:
H band
Function:
- Exercise Record (step counter, distance, calorie calculation)
- ECG Monitoring
- HRV Monitoring
- Real-time Heart Rate Monitoring
- All Day Blood Oxygen Monitoring
- Blood Pressure Monitoring
- Sleep Monitoring
- Alarm Clock
- Sports Mode
- Camera Control
- Music Control
- Weather Forecast
- Incoming Call
- Sedentary Reminder
- Message Reminder
- Find Phone
- Stopwatch
- Timer
- Women's Health
Specification:
- Case Size: 44.5*44.5MM(1.75*1.75")
- Suitable Wrist Diameter: 150-250MM(5.91-9.84")
What's in the box?
1 * Smartwatch with Chest Strap&Stand&Stick
1 * Magnetic Charging USB Cable
1 * Luxury Watch Box
1 * English Instruction
Notes:
Please upgrade to the latest software version for a better experience when there is an update prompt on the APP.
The APP language automatically switches languages according to the system.
Smartwatch data can't use for medical purposes. The monitoring data is for reference only. If you need medical help, please contact a professional doctor.
For daily wear, wear the watch about one finger distance from the wrist bone, and adjust the tightness of the strap to a comfortable position.